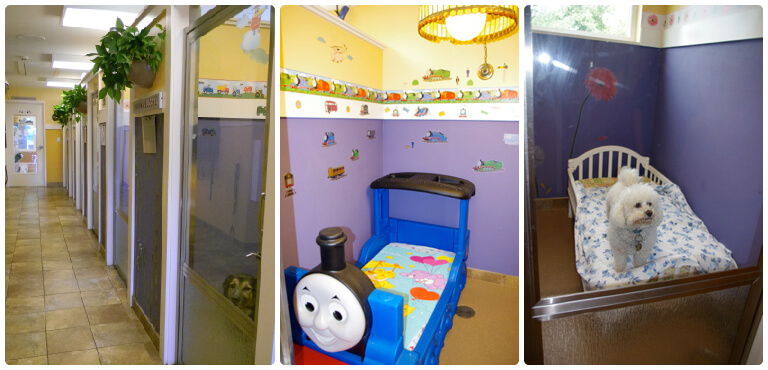 Pamper your Pooch with a stay at the Red Ruff Inn!
Our boarding facility offers three 6′ suites and five 4′ suites for your pup to relax in while you are away. Soft music soothes your dog after exercising on our agility equipment in the large fenced play area. Our canine guests are walked 4 times per day, and many à la carte items are available.
Call for reservations:
PHONE: 717-840-1025
EMAIL: wecare@stg-eastyorkvet-stagingalex.kinsta.cloud
Suite Options
4′ Luxury Suite: 54x75x85 inches
6′ Luxury Suite: 72x75x85 inches
Budgetel Single: 22x28x22 inches
Budgetel Double: 33x28x28 inches
Budgetel Queen: 45x28x28 inches
Budgetel King: 36x74x74 inches
Extra Guest* (In luxury suites only)
Canine À la Carte Menu
Now offering Build Your Own Package options to provide your pet with the most interactive fun for the best value!
3 Activities: $15
5 Activities: $25 – 6th activity is FREE!
Nature Walk
Your dog will get some fresh air while exploring the grounds with our animal care staff.
Playtime
Get those paws a movin' with a playtime full of toys and excitement.
Tasty Treat
Choose a delicious frozen Frosty Paw treat or dog cookies (2 per serving).
Tail-Wagging Toy
Pick a toy from our boutique for your pup to play with and take it home!
Snuggle Time
Have your furry friend cuddle up with an animal care team member for a comforting snuggle.
Bedtime Service
We will take a picture of your furry friend at bedtime and send it via email.
Treat Tire/Kong
Peanut butter filled rubber tire or kong for your pet to enjoy.
Pet Postcard
Your pet will take a break from his busy day to write you a letter, telling you all about the good time he is having while on vacation! Sent via email.
Squeaky Clean Spa Package
Posh Paw Spa Package
Includes one thorough coat brushing & nail trim: $25
Pearly White Dental Package
Includes one tooth brushing, 2 dental treats, and one toothbrush and sample toothpaste to take home: $12.50
Did you know?
Our lodging facility has a veterinarian on staff during all open hours.
We are open 7 days a week for your convenience.
We offer daycare services.
You can schedule procedures, such as dentals and other routine procedures for your pet while lodging.
There is no need to bring blankets, beds or other favorite items from home; we provide all the creature comforts.
Dogs are walked at least 4 times a day.
Even though we are closed on major holidays, we have staff working to provide care for your pet throughout the day.
If you have a special needs pet, our medical team monitors your pet while in our lodging facility to ensure his/her needs are being met while in our care.