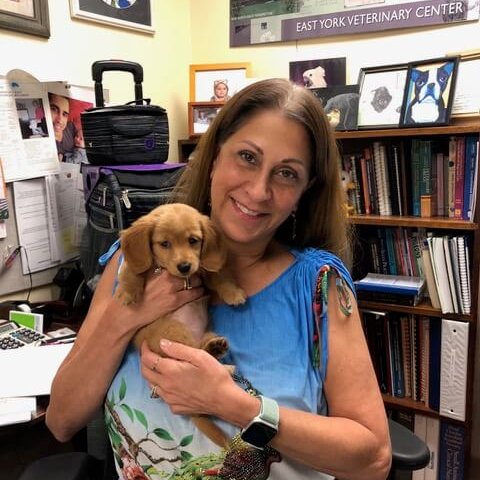 Dr. Valerie Miller – Hospital Founder & Administrator
Dr. Valerie Miller, the owner of East York Veterinary Center, graduated from Ohio State University with a B.S. in Animal Nutrition and Chemistry. She then continued at Ohio State for her D.V.M. degree. She has a special interest in avian medicine and wildlife rehabilitation.
Even with her busy practice, Dr. Miller finds time for community service. She has been on the Board of Directors for the York County SPCA since 1989.
Besides belonging to the American and Pennsylvania Veterinary Medical Associations, she is a member of the American Animal Hospital Association, American Association of Veterinarians for Animal Welfare, the U.S. Humane Society, American Association of Feline Practitioners, Association of Avian Veterinarians, and participates in BirdMed and the Veterinary Information Network.
Dr. Miller lives on a small farm with her companion, four children and numerous adopted animals, including horses, cows, sheep, chickens, peacocks, dogs, cats, and parrots.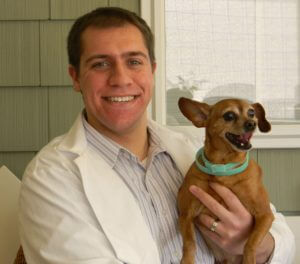 Dr. Christopher Lopresto – Associate Vet
Dr. Christopher Lopresto is a native of western Pennsylvania and graduated from the University of Pittsburgh in 2004 with a Bachelor of Science in Biological Sciences. He then attended the University of Pennsylvania School of Veterinary Medicine and earned his VMD degree in 2008. After completing a one-year rotating internship in small animal medicine and surgery, he began work in small animal practice, joining East York Veterinary Center as an Associate Veterinarian in 2012.
As a veterinary student, Dr. Lopresto took an interest in exotic animal medicine and surgery, especially fish and other aquatic species. He completed the AQUAVET I program and performed an externship at the Pittsburgh Zoo & PPG Aquarium. During his internship, Dr. Lopresto also spent time with the veterinary department at Tri-State Bird Rescue.
Dr. Lopresto developed and conducts the hospital's aquatic animal medical and surgical services. In addition to growing the aquatic and exotic animal practice, Dr. Lopresto is interested in clinical applications of pharmacology, including anesthesia and analgesia, and would like to pursue continuing education in veterinary acupuncture. He currently sees dogs, cats, birds including backyard poultry, small mammals, reptiles/amphibians, fish and aquatic invertebrates, and wildlife.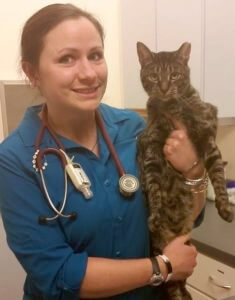 Dr. Stephanie Martin – Associate Vet
Dr. Stephanie Martin grew up on a dairy farm in Maryland where she realized her love for animals. She graduated from Bucknell University with a bachelor's degree in animal behavior. Her desire to serve her country then led her into the US Army where she served as an Animal Care Specialist (veterinary technician) for four years, stationed in Maryland and South Korea. She then attended veterinary school at the University College of Dublin.
While Dr. Martin had an incredible experience studying in Europe, she is happy to be back on the East Coast and close to home. Dr. Martin most recently worked at a high-volume practice with shared emergency work in Harrisburg, PA prior to joining our team at East York Veterinary Center.
In her free time, she enjoys baking, reading, playing board games, walking on her parent's farm with friends (both two-legged and four-legged). She also enjoys traveling. She cannot wait to meet you and your family.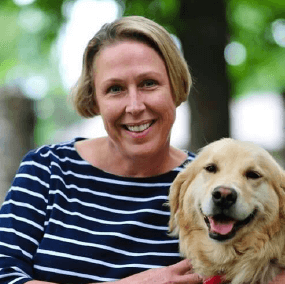 Dr. Tracy Moussa – Associate Vet
Dr. Tracy Moussa grew up outside Philadelphia in Newtown, Bucks County, PA. She realized her love for animals at an early age, caring for her small flock of purebred Dorset sheep.
Dr. Moussa spent some time in Long Beach, California where she attended undergraduate school, worked as a veterinary assistant and was a Guide on the Whale Watch boats on the weekends. Upon moving back to Pennsylvania, she completed her Bachelors of Arts degree in Biology from Beaver College and the attended the University of Pennsylvania School of Veterinary Medicine graduating in 2005. Upon graduation from veterinary school, Dr. Moussa worked at a companion animal practice with a focus on exotic species. She then became the Director of Medical Care for the Humane Society Harrisburg Area.
Dr. Moussa enjoys being at East York Veterinary Center where she is able to provide exemplary and thorough care for her patients. She really enjoys seeing the human/animal bond on a daily basis and helping her client's beloved companions live long healthy lives. Her interests include feline medicine, internal medicine, dermatology, dentistry, soft tissue surgery, and exotic medicine.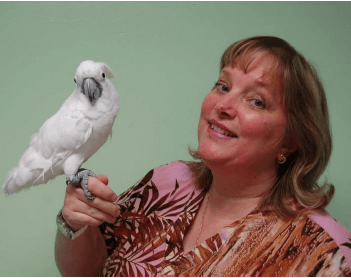 Dr. Gale Savino-Eason – Associate Vet
Dr. Gale Savino-Eason originally hails from New York, but comes to East York Vet Center from Smithsburg, Maryland where she resides with her husband , 2 cats, 2 birds, 3 dogs and her daughter (when she's not away at college). She also has 4 stepchildren and 3 grandchildren.
"Dr. Gale" as she likes to be called, is a 1989 graduate of the University of Florida College of Veterinary Medicine and has been practicing small animal medicine for the last 30 years along the east coast from Florida to New Jersey and in between.
Known for her exceptional bedside manner, passion for client education and nurturing the bond between her clients and their cats and dogs, she also sees the occasional pocket pet, exotic, avian and or reptile patient. She enjoys helping her patients conquer "dragon breath" by tackling dental care and skin conditions together with you; to improve your pet's well-being and future smiles.
When not practicing medicine or spending time with family, she also enjoys crafting, yard sales, reading, and any type of beach or water activity. Dr. Gale is a member of Cornerstone Fellowship Church, The AVMA, MDVMA, WMVMA and Christian Veterinary Missions, she has also lectured about Lyme disease, participated at the Birthing Center at the Great Frederick Fair and volunteered at the Humane Society.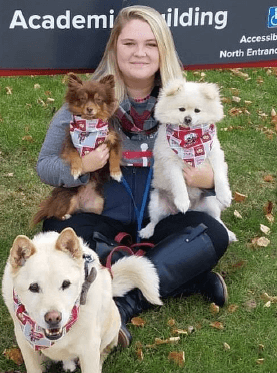 Dr. Katie Rosenbaum – Associate Vet
Dr. Rosenbaum is a long-term native of western Pennsylvania. She grew up with a myriad of animals including cats, dogs, fish, guinea pigs, rabbits, goats, turkeys, and dairy cows, which sparked her love of veterinary medicine. She attended the University of Pittsburgh at Johnstown and received her Bachelor of Science in Biology in 2015. She then attended Ohio State University College of Veterinary Medicine and graduated with her DVM in 2019. She then joined the East York Veterinary Center care team as an Associate Veterinarian in 2019.
During her schooling, Dr. Rosenbaum became passionate and dedicated to practicing Fear Free medicine and low-stress handling. She believes that reducing anxiety during veterinary visits can lead to happy pets, happy pet parents, safer staff, and higher quality of care, which results in healthier pets. During her clinical year, she received additional training in small animal nutrition counseling and behavior medicine. Her other special interests include preventative medicine, feline geriatric care, and pain management.
Outside of the clinic, Dr. Rosenbaum enjoys spending time with family, her two Pomeranians, Macy and Maxwell, and her two cats Duck-Duck and Goose. Her free time is also spent reading, boating, camping, visiting friends, and attending country concerts. She is excited to join the East York Veterinary Center care team and treat your pets like family!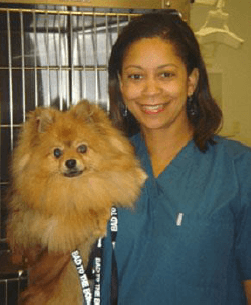 Dr. Anjilla Cooley – Specialty Surgeon
Dr. Anjilla Cooley visits East York Veterinary Center to perform orthopedic surgery, such as ACL repair and compound fracture plating, as well as advanced soft tissue surgery and procedures like myelograms.

Dr. Cooley's educational background consists of receiving a Doctorate of Veterinary Medicine from the University of Tennessee, a Master's Degree in Veterinary Science from Virginia-Maryland Regional College of Veterinary Medicine in Blacksburg, VA.
She has traveled throughout Pennsylvania and New Jersey performing numerous advanced orthopedic, neurologic and soft tissue surgeries at various hospitals and clinics since 1999.